The Philippines has recorded 16 new cases of the highly contagious Delta coronavirus variant, including 11 locally transmitted cases.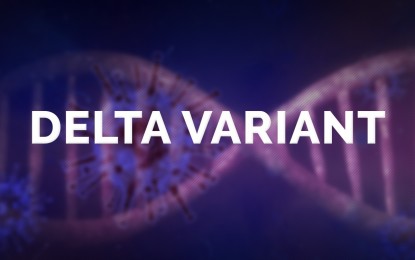 In an online media briefing Friday, Health Undersecretary Maria Rosario Vergeire said of the first 11 local cases reported, six were detected in Northern Mindanao and "are part of a large cluster of cases". All of them have recovered.
Two cases, she said, were detected in Metro Manila.
"One case was tagged as death after being rushed to the emergency room of a hospital on June 28. The other case is an outpatient with an onset date of June 23 who was tagged as recovered already," she said.
She said one case has reported an address in Central Luzon, but was tested for the disease in Metro Manila.
Two cases were detected in Western Visayas, both with an onset date of May 27, she noted. Both have recovered.
"All of these cases have no known connection to each other," Vergeire said.
Vergeire said five of the 16 new cases are returning overseas Filipinos (ROFs).
She said two cases from Qatar arrived on June 15 and have recovered from Covid-19.
Meanwhile, one case from United Kingdom arrived on April 26 and has also recovered from the disease, she said.
She said the DOH is still verifying the arrival and quarantine status of the two other ROF cases.
Currently, the country has a total of 35 Delta variant cases.
Sporadic
In a Facebook post, infectious disease expert Dr. Edsel Salvana said the Delta variant detections do not yet represent widespread transmission.
He added that with the detection of Delta variant cases including local ones, the Philippines is better able to tailor its responses to the continuing Covid-19 threat.
"It is clear that these viruses got through our cordon, perhaps due to lapses in border protocols. Fortunately, the detections are sporadic, and do not yet represent widespread transmission," he said.
"This also mirrors case counts in the areas that have had detections and surges, and these have already been appropriately under tighter restrictions proactively due to surges that preceded the variant identification," he added.
Salvana said the country's healthcare measures have been "successful" at keeping the more transmissible variant from causing the type of surges that are being seen across Southeast Asia.
"We need to continue to keep more introductions out as we work to stamp out transmissions from these detected cases and their close contacts," he said.
Prepared
Vergeire said the country's health system is prepared for the Delta variant, first detected in India early this year.
"Alam ninyo po ang pinaka importante, we were given time. Nung nag-umpisa ang surge sa India, nakita ng government ano ang pwede mangyari sa bansa pag may Delta variant. Nag-umpisa na po tayo mag-prepare ng ating health system (What's important is that we were given time. When the Delta variant surged in India, our government saw what could possibly happen here. So back then we already started preparing our health system)," she said.
Among the preparations done include additional beds, intensified PDITR strategy (prevention, detection, isolation, treatment and reintegration) and ensuring that there is enough oxygen supply, among others.
"'Yung oxygen supply in collaboration with DTI, nakapag imbentaryo tayo. Tinignan nila ang mga manufacturers ng atingoxygen at 'yung pino-produce is enough for our existing needs at meron tayong surplus. Hospitals have sufficient supply sa ngayon. Nanghingi din tayo ng tulong sa DTI kung pwede dagdagan pa ang i-produce (In collaboration with DTI, we were able to make an inventory. The oxygen produced by manufacturers is enough for our existing needs and we have a surplus. We also asked the DTI if the manufacturers can produce more)," Vergeire said.
Reporting by Albert Rovic Tan