Dito Telecommunity says it has not yet launched its modems or pocket Wi-Fi devices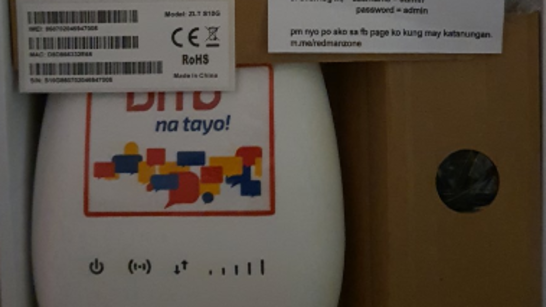 MANILA (AdChoiceTV News) — Globe Telecom warned the public that some of its Wi-Fi modems are being illegally rebranded as Dito Telecommunity products and sold online.
In a statement on Monday, June 14, Globe said the modus is done through the unauthorized unlocking of the Globe device, substituting the Globe SIM with a Dito Telecommunity SIM, and concealing the Globe At Home trademark with a sticker of Dito.
Globe's prepaid Wi-Fi kits have pre-inserted SIMs in the modems ready for activation via the Globe At Home app or Facebook Messenger upon purchase.
A closer look at the modem shows that it is a product of Globe.
"We are prepared to take the necessary legal action against these unscrupulous individuals and establishments carrying out these deceptive business practices, through the assistance of law enforcement authorities," Globe said.
Should consumers encounter the altered product, they are encouraged to report the matter to the Department of Trade and Industry's Consumer Protection Group via consumercare@dti.gov.ph or text 09178343330.
They may also report via Globe At Home's official Facebook Messenger.
In a separate statement on Monday, Dito said it has not yet launched its modems or pocket Wi-Fi devices.
"Dito cannot and will not guarantee the performance and service should our SIM cards be used in these unauthorized devices in the market today," said Dito chief administrative officer Adel Tamano.
Overpriced SIM cards
Meanwhile, Dito also warned the public that there are overpriced SIM cards sold on online platforms, reportedly going for as high as P5,000.
Tamano said these overpriced SIM cards, as well as supposed Dito-branded modems and Wi-Fi devices, are sold on Facebook's Marketplace, Lazada, and Shopee.
"We wish to inform everyone that there are unscrupulous individuals selling Dito so-called vanity or special numbers at exorbitant prices.
Please be reminded that all Dito SIM cards no matter the mobile number are priced the same and we at Dito do not condone this practice," Tamano said.
Dito's basic SIM cards are sold at P40 and can go as high as P499 if the SIM already has load for internet services.
The list of authorized partners and resellers is available on the following websites:
/ART — AdChoiceTV News (Manila)