Road to 700,000 in losses? Not quite as the controversial page looks to recover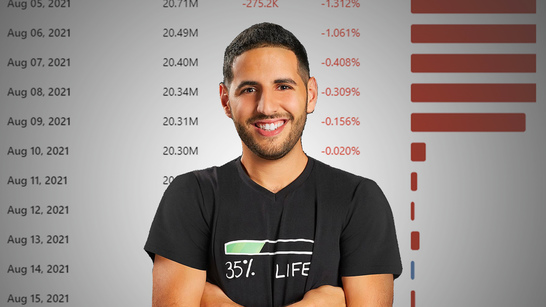 Nas Daily's Facebook page took a hit in terms of follower count after a controversy with renowned Filipino tattoo artist Whang-Od exploded online last August 4.
Whang-Od's grandniece Grace Palicas called a planned partnership between Whang-Od and the online learning platform Nas Academy a "scam," resulting in a massive backlash amongst Filipinos defending the tattoo artist, as well as a lengthy online back-and-forth between Nas Daily and Nas Academy founder Nuseir Yassin and other figures such as The Cacao Project founder Louise Mabulo for other issues.
The Nas Daily Facebook page immediately felt the hit, losing about 500,000 followers in the first 3 days of the controversy. It lost 11,800 on August 4, then 275,200 on August 5, its largest single-day losses, and then another 219,700 on August 6.
The total losses in followers from August 4 to August 16 is 695,442.
After August 6, the losses started to slow down at 83,500, 63,000, and 31,800 in the next 3 days. The rate slowed to a trickle from August 10 to 13 at 4,100, 1,800, 957, and 2,400.
August 14 was the first time that the page gained new followers in the last 10 days, getting 87 new followers. But the page returned to the red column the following two days, losing another 1,200 on August 15, and 72 on August 16 (numbers incomplete at time of posting).
The 695,442 followers lost in the time span is equivalent to the number of new followers the page gains in about 1 to 1.5 months. In the past 12 months, from August 1, 2020 to July 31, 2021, the page averaged 373,100 new followers per month.
In spite of the losses, the page's follower count remains huge at 20.3 million followers.
All data cited is from CrowdTangle, a public insights tool owned and operated by Facebook.
Amid the controversy, Yassin put Nas Academy operations on pause as the National Commission on Indigenous Peoples (NCIP) continues to investigate.
The Israeli vlogger's last online post relating to the controversies came on August 9, when she called Mabulo's Cacao Project 'fake' for the second time.
Mabulo, on the other hand, has appealed to the Commission on Human Rights (CHR) to declare Yassin persona non grata.
Reporting by Sean Tyler Chan