The bulk of unfollows came from August 5 at 275,200. The page drops from 20.96 million followers a week ago to 20.68 million.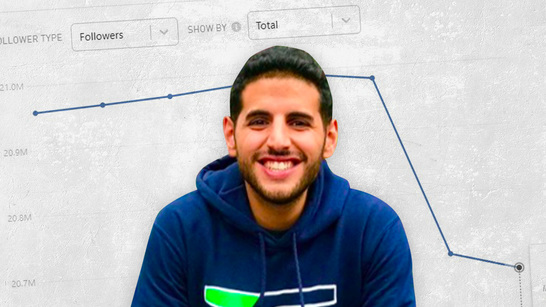 The primary Nas Daily Facebook page experiences a massive drop in followers amid the controversy between Nas Daily creator Nuseir Yassin, world-renowned traditional tattoo artist Whang Od, and chef and entrepreneur Louise Mabulo.
From August 4 – the day that Whang Od's grand niece Grace Palicas called the inclusion of a Whang Od course in Yassin's online learning platform Nas Academy a "scam" – to August 6, as of publication time, about 306,900 users have unfollowed the page, according to Facebook analytics tool CrowdTangle.
The bulk of unfollows came from August 5 at 275,200. The page drops from 20.96 million followers a week ago to 20.68 million.
A 22-second video shown on a separate Nas Daily Tagalog page did little to appease netizens, with some saying that the company should have apologized to and discussed matters with Whang Od's camp instead of pushing back against Palicas' cries with the release of the video.
Matters got worse for Yassin, with accusations coming from The Cacao Project founder Louise Mabulo, who said that the content creator only cared about clickable content, and insulted the farmers. "He said no one wants to hear about farmers or farms, it's not clickable viewable content.
He didn't care about making change or shedding light on real issues— he only wanted content, a good, easy story to tell that would get him more Filipino views," Mabulo said.
The hot mess has since evolved to an even bigger hot mess. Yassin and Mabulo traded barbs, with the former saying that there was no cacao farm to talk about, and the latter saying that they and their farmers are doing well.
In between, accusers of The Cacao Project not being a social enterprise; and accusers of the accusers of The Cacao Project being guilty of the same have since joined the online brawl.
The mayor of San Fernando, Camarines Sur, Fermin Mabulo, has also come out to defend his daughter Louise, explaining that they made it clear to Yassin that the cacao trees were still in the flowering stage, and they had nothing to show much at that stage.
"His intended content is inconsistent with the realities on the ground. We were very transparent about what we showed him but he was looking for something else," said the mayor.

Curiously, the Nas Daily Tagalog page has seen a spike in follower growth, increasing by about 28,000 in the same time period, bringing the total to about 850,000.
Reporting by Albert Rovic Tan.