'Sampalin ko yung mga judges diyan,' declares President Rodrigo Duterte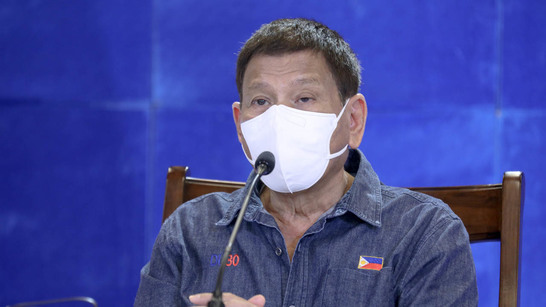 MANILA (AdChoiceTV News) — Philippine President Rodrigo Duterte called the International Criminal Court "bullshit" and declared he wanted to "slap" its judges a week after the body's chief prosecutor recommended opening a formal investigation into his drug war.
"Itong ICC, bullshit ito (This ICC is bullshit). Why would I defend or face an accusation before white people? You must be crazy," said Duterte on Monday, June 21, during a televised public address.
"Sampalin ko yung mga judges diyan, eh loko-loko kayo (I'll slap you judges, you fools). You want my country to go down the drain," he also said.
Duterte mentioned ICC chief prosecutor Fatou Bensouda but stopped himself because he did not want to be "offensive."
He repeated his largely discredited legal theory that the Philippines was never a member of the ICC because the Rome Statute which created it was supposedly never published in the Official Gazette after it was ratified by Congress.
Duterte ordered the withdrawal of the Philippines from the ICC in 2018.
Malacañang had earlier slammed as "politically-motivated" and "legally erroneous" Bensouda's move to request for a formal probe into Duterte's controversial anti-illegal drugs campaign.
This is not the first time Duterte made threats or lobbed insults at ICC officials. In 2018, he called ICC judges "pedophiles" and threatened to arrest Bensouda if she ever sets foot in the Philippines.
/ITC — AdChoiceTV News (Manila)