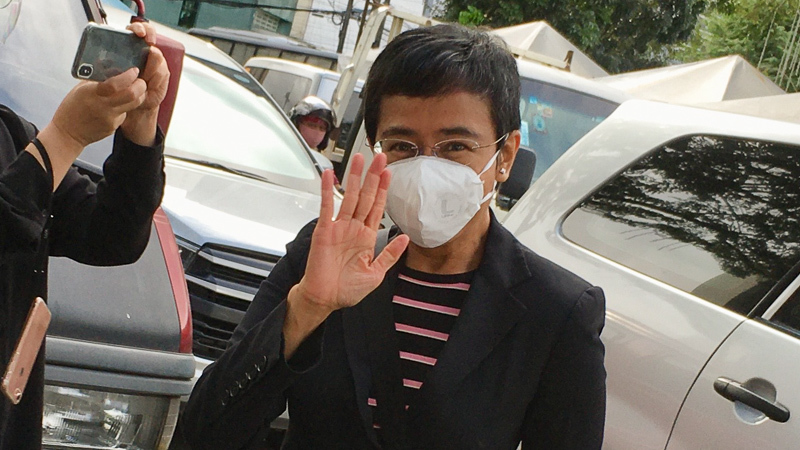 AdChoiceTV News — The US enacted a law on Sunday night, December 27, requiring the Secretary of State to deny entry to foreign government officials who violate the rights of journalists, including Rappler CEO Maria Ressa in the Philippines.
This is provided under the US government spending bill that US President Donald Trump signed on Sunday night. He was expected to sign it a week earlier, but delayed it for still unknown reasons, raising the specter of a government shutdown.
Ressa's international legal team, led by Amal Clooney and Caoilfhionn Gallagher QC, hailed the then proposed US law in a statement Tuesday, December 22.
The explanatory statement for the legislation directs the Secretary of State to deny entry "to foreign government officials involved in threatening, wrongfully imprisoning, or otherwise depriving of liberty independent journalists who speak out or publish about official corruption or other abuses, including Maria Ressa and El Faro in El Salvador."
The law also applies to foreign government officials' immediate family members.
Since January 2018, there have been 13 complaints and cases filed against Ressa as well as Rappler's directors and former researcher Reynaldo Santos Jr. Ressa was named as a defendant in 9 criminal cases and convicted of one on June 15. An appeal is set to be filed with the Court of Appeals. If convicted of all charges Ressa faces potentially decades in prison.
The other entity specified in the new us LAW, El Faro or The Lighthouse, is a digital news organization in El Salvador that has been attacked by President Nayib Bukele for reporting on his alleged corruption and his mishandling of the COVID-19 pandemic, among others.
In a statement, Ressa's international legal team, which includes Clooney and Gallagher's fellow barristers Can Yeginsu and Claire Overman, applauded the US legislation.
Clooney welcomed the recognition by US Congress that Ressa is one of the champions of press freedom today.
"We deeply appreciate Congress's commitment to holding accountable those in the Government of the Philippines who are persecuting her," she said.
"Our hope is that those who are abusing the law to extinguish press freedom in the Philippines can be persuaded to drop the unjustified charges they have brought against Ms Ressa. But if they do not relent, we will work with the United States and other concerned governments to hold the perpetrators accountable," Clooney added.
Gallagher and Can Yeginsu called on other foreign governments to take "practical steps" to show their support for Ressa.
"We now call upon other States, the European Union and the United Nations to demonstrate their support for Ms Ressa by taking robust, practical steps which send a clear message to the authorities in the Philippines: The persecution of Ms Ressa must cease," they said.
Ressa faces 9 criminal charges before Philippine courts, all filed during the administration of President Rodrigo Duterte who has been threatening her, Rappler, and other journalists and media organizations who write critically of his government.
In July, as Ressa continued to receive international awards and recognition for her fight for press freedom, the Philippine leader warned that he was supposedly "compiling" information against her but did not elaborate.
A week before Ressa posted bail for her 9th arrest warrant in November, she was named 2020 Journalist of the Year by the Foreign Press Association in London. In December, she was included in the 2020 Bloomberg 50.
Ressa, along with other journalists, was named Time Person of the Year in 2018, collectively called "The Guardians and the War on Truth." — via Sean Tyler Chan / AdChoiceTV News